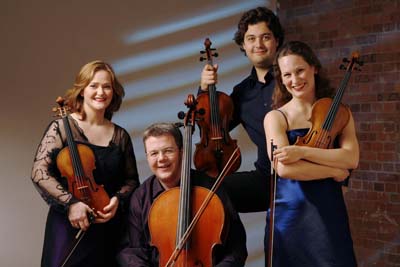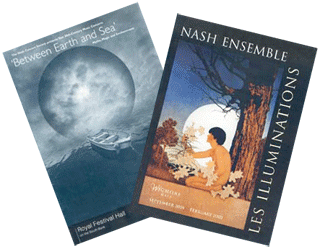 Nash Ensemble

Resident Chamber Ensemble at Wigmore Hall
full length biography: (778 words)
"The Nash are chamber music royalty." The Sunday Times
The Nash Ensemble, Resident Chamber Ensemble at Wigmore Hall since 2010, is acclaimed for its adventurous programming and virtuoso performances. It presents works from Haydn to the avant-garde, and is a major contributor towards the recognition and promotion of contemporary composers. By the end of the 2019/20 season the group will have premièred over 300 new works by 225 different composers of which 215 have been especially commissioned.
An impressive collection of recordings illustrates the same varied and colourful combination of classical masterpieces, little-known neglected gems and important contemporary works. Releases receiving critical acclaim include all the Mozart String Quintets, Russian chamber music, chamber works by Schumann and Joaquin Turina, and chamber works by Czech composers incarcerated in the Theresienstadt concentration camp between 1941 and 1945. Releases have also included a CD of Hollywood composers for Hyperion, Harrison Birtwistle's The Moth Requiem for Signum Classics and a CD of chamber works by Max Bruch for Hyperion, which was nominated for a Gramophone award. Last June the Nash recorded works by Ernst von Dohnányi and this year it has recorded chamber works by Julian Anderson for NMC and those of Fanny Mendelssohn and Clara Schumann for Hyperion.
In the 2018/19 season at Wigmore Hall, the Nash presented a series entitled 'German Romantics', exploring the German repertoire of the era: beginning with Beethoven and Weber; including Fanny Mendelssohn and Clara Schumann alongside Felix Mendelssohn, Robert Schumann and Brahms; and ending with Wagner, Max Bruch and Richard Strauss - represented by his moving Four Last Songs. The interest and variety of the Ensemble's programmes was enhanced by the collaboration of a cohort of leading singers of our time including Christine Rice, Sophie Bevan, Roderick Williams, Lucy Crowe and Maximilian Schmitt. The season included two new music concerts: on 19 March involving Royal Academy of Music students 'Side by Side' with members of the Nash Ensemble. On 12 April the Nash was joined by the eminent conductor Stefan Asbury and soprano Claire Booth for 'Nash Inventions', its annual survey of the best of contemporary music. It featured world premieres by Harrison Birtwistle, as well as works by the late Oliver Knussen and the esteemed American composer Elliott Carter including Mosaic - a Nash commission. In addition there was a pre-concert talk in which broadcaster and journalist Tom Service gave an 'In Conversation' with Sir Harrison Birtwistle.
In the 2019/20 season the Nash places the music of Schubert at the centre of its annual series. The programmes feature some of the greatest chamber works ever written: the Trout Quintet for piano and strings; the sublime String Quintet, the abundantly tuneful Octet for wind and strings and the two masterly piano trios. There is also music by his contemporaries, including Weber, Spohr, Rossini, Beethoven and Beethoven's pupil Ferdinand Ries, and by his forerunners and successors, ranging from Haydn to the Mendelssohns, brother and sister, and Schumann. The programmes are enhanced by a strand of songs by Schubert and other significant figures of the time, featuring renowned guest artists Stéphanie d'Oustrac, Roderick Williams, James Gilchrist and Elizabeth Watts.
The Nash Ensemble's annual Nash Inventions concert will celebrate the 60th birthday of Mark-Anthony Turnage, one of the most admired and widely performed British composers of his generation. There are three works by Turnage, including the jazz-inspired Slide Stride, and a specially written commission (with the radiant soprano Claire Booth), which is dedicated to the memory of his mentor Oliver Knussen. The programme, devised in collaboration with the composer, also includes 20th-century classics by Stravinsky and Ravel, and pieces by Knussen and George Benjamin.
The Nash Ensemble's artistic director Amelia Freedman has received many honours including an FRAM and the MBE, which was conferred upon her in 1989. In 1996 she was appointed Chevalier dans l'Ordre National du Mérite by the President of France for her services to French music. She has also been awarded the prestigious Leslie Boosey Award by the Performing Right Society and the Royal Philharmonic Society. In June 2006 she was awarded the CBE in the Queen's birthday honours, for her services to music. In 2010 she was appointed Officier dans l'ordre des Arts et des Lettres by the French Ministry of Culture, for her services to classical music. In 2011 she received the IAMA award 'as a sign of great respect for her work from the artist management profession'. In February 2018 she was awarded the Honorary title of Doctor of Letters by Bath Spa University in recognition of a distinguished contribution to music. Amelia Freedman was Head of Classical Music at Southbank Centre from 1995 to 2006. She has been Artistic Director of Bath Mozartfest since 1995 and Bath Bachfest since 2011.