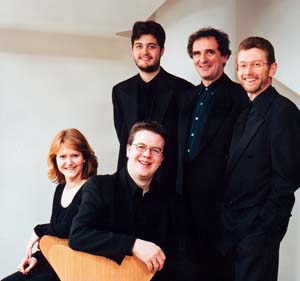 Nash Ensemble 2017-18 Series at Wigmore Hall
CHAMBER ENSEMBLE IN RESIDENCE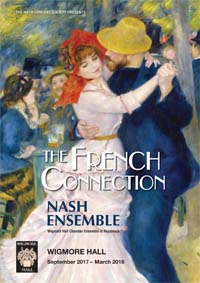 The French Connection
Under the patronage of Her Excellency the French Ambassador Mme Sylvie Bermann
promoted by the Nash Concert Society:
Igor Stravinsky spent the years 1914 to 1939 living in French-speaking Switzerland and then in France, where he became friends with many leading French musicians and eventually took citizenship. During that period, he encountered ragtime and jazz and developed his inventively eclectic 'neo-classical' approach, while also retaining strong musical affinities with his native Russia. This series juxtaposes music from Stravinsky's French period with music by a variety of composers from the rich French tradition - including the Saint-Saëns and Fauré, the great Impressionists Debussy and Ravel, and the 'bright young things' of the generation that emerged after the First World War.
September 20, Wigmore Hall - 'Nash Inventions'

6.00pm:
Pre-concert talk: Composers in conversation with Tom Service ahead of the evening concert

7.30pm:
With: Martyn Brabbins (conductor), Simon Wallfisch (baritone **), Peter Tregear (baritone **)

Stravinsky: Concertino for String Quartet
John Casken: Misted Land for clarinet & string quartet (WP *)
Alexander Goehr: The Waking (for two baritones) **
Alexander Goehr: after "The Waking" for clarinet, bassoon, horn, violin and double bass (WP)
Harrison Birtwistle: Piano Trio (and possibly new work for viola & cello)
Peter Maxwell Davies: String Quintet

* Commissioned by the Nash Ensemble with the support of the Ernst von Siemens Music Foundation.



---
September 24, Wigmore Hall Coffee Concert

Instrumentation: piano, flute, oboe, cor anglais, clarinet, bassoon & horn

11.30am:
Ravel: Suite from Le Tombeau de Couperin
Stravinsky: Three Pieces for clarinet
Stravinsky: Pastorale
Bizet: Jeux d'enfants arr. for piano & wind quintet
Debussy: Syrinx
Poulenc: Sextet for piano and wind quintet
---
October 28, Wigmore Hall - 'The French Connection'

6.00pm:
Pre-concert talk: Professor Jonathan Cross talks about Stravinsky and his connection with France and French composers

7.30pm:
With: Patricia Routledge (reciter), Ian Brown and Simon Crawford-Phillips (piano duo)

Debussy: Sonata for flute, viola & harp
Stravinsky: Three Movements from Petrushka (arr. for 2 pianos)
Ravel: Introduction and Allegro
Chabrier: Trois Valses Romantiques, Habanera and España (for 2 pianos)
Saint-Saëns: Tarantelle in A minor, Op.6 for flute, clarinet and piano
Saint-Saëns: Carnival of the Animals
---
December 9, Wigmore Hall - 'The French Connection'

6.00pm:
Lily Boulanger: D'un soir triste, D'un matin de printemps (piano trio)
Debussy: Violin Sonata
Stravinsky: Suite Italienne for cello & piano

7.30pm:
With: Roderick Williams (baritone)

Debussy: Danse sacrée et Danse profane (harp, string quartet & double bass
Stravinsky: Three Movements from Petrushka (are. for 2 pianos)
Stravinsky: Three movements from The Firebird (piano duo)
Poulenc: Le bal masqué (voice, piano, oboe, clarinet, bassoon, trumpet, violin & cello)
Ravel: Don Quichotte à Dulcinée (voice & piano)
Ravel: Piano Trio
---
January 13, Wigmore Hall - 'The French Connection'

7.30pm: with Stéphanie d'Oustrac (mezzo-soprano)

Debussy arr. Benno Sachs: Prélude à l'après-midi d'un faune
Music for viola by Vierné, Debussy and Honnoré
Debussy arr. Matthews: Trois poèmes de Stéphane Mallarmé
Duparc: L'invitation au voyage, Phidylé (voice & piano)
Ravel: Chansons Madécasses
Ravel: String Quartet
---
February 10, Wigmore Hall - 'The French Connection'

6.00pm:
Duruflé: Prelude, recitative & variations (flute, viola & piano)
Debussy: Cello Sonata
Ravel: Duo for violin & cello

7.30pm:
With: Leslie Caron (reciter - one of the great Hollywood Musical stars of the 20th century, with credits including Daddy Long Legs and An American in Paris) and Sophie Bevan (one of the finest sopranos of her generation)

Ravel arranged by Carlos Salzedo & Skalia Kanga: Sonatine (flute, viola & harp)
Stravinsky: Three Japanese Lyrics, Two Poems of Balmont
Debussy arr. Boulez: Chansons de Bilitis
Ravel: Trois poèmes de Stéphane Mallarmé
Fauré: Piano Quartet in C minor, Op.15
---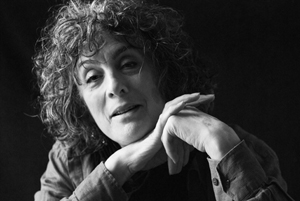 March 10, Wigmore Hall - 'The French Connection'

7.30pm: with Eleanor Bron (narrator), Mark Stone (Soldier & Devil), Martyn Brabbins (conductor)

Ravel: Mother Goose Suite for piano duo
Milhaud: Caramel Mou (Shimmy for jazz band
Poulenc: Babar the Elephant (reciter & piano)
Stravinsky: The Soldier's Tale
---
March 20, Wigmore Hall - 'The French Connection'

5.30pm:
Side by side concert with students from the Royal Academy of Music & pre-concert talk given by Gillian Moore
Stravinsky: Three Pieces for string quartet
Debussy: Premiere Rhapsody
Poulenc: Sonata for horn, trumpet & trombone
Milhaud: La Cheminée du roi René
Poulenc: Trio for oboe, bassoon & piano

7.30pm:
With: Christine Rice (mezzo-soprano)

Saint-Saëns: Caprice sur les airs Danois et Russes
Ravel: Cinq mélodies Greques, Chants populaires
Debussy: String Quartet
Delage: Quatre poèmes Hindus
Fauré: Piano Quartet in G minor, Op.45